clientele
Consumer of products available in the CSD consist of personnel from the Army, Navy, Airforce and select paramilitary forces and civilian organisations, comprising of 97% JCO/OR or equivalent and 3% officers.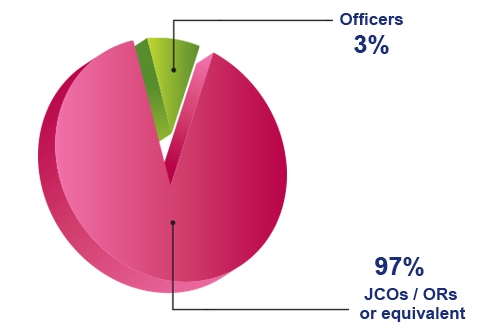 It is not just serving defence personnel who benefit - CSD is also committed to serving their families and ex-servicemen.
We source a wide range of items for the Unit Run Canteens. Our inventory consists of seven categories:
Group I - Toiletries and cosmetics.
Group II - Household requisites such as electrical/electronic appliances, cookers, crockery, wall clocks, kitchenware and sewing machines.
Group III - General use items such as hosiery, bicycles, plastic goods, footwear, luggage and undergarments.
Group IV - Watches and Stationery.
Group V - Liquor.
Group VI - Food, stationery and medicinal items.
Group VII (AFD) - Televisions, audio and video systems, refrigerators, washing machines, two-wheelers, cars, tractors, cooking ranges (ovens), air conditioners, microwave ovens etc.


AFD: Against Firm Demand
Our website has a full list of products that are available to our users. Please use the Search icon to know what items we have listed in our inventory. A product search for cars (an AFD item) will show Depot-wise costs together with details of the dealer.
We also offer comprehensive guidance for our clientele, available by clicking on the Guidelines tab. Under this tab, users will be able to get help on how to purchase AFD-I items, including cars and bikes.
Consumers will also be able to access and download the following forms from the Forms tab:
Indent for purchase of AFD-I Item by entitled serving personnel.
Indent for purchase of AFD-I Item by entitled ex-Servicemen.
Car application form for PBOR (serving)
Car application form for PBOR (retired)
Application form for Purchase of Car by serving and retired Officers.
Please download pdf files using Acrobat Adobe Reader. In case it is not installed on your device, please install from this link.